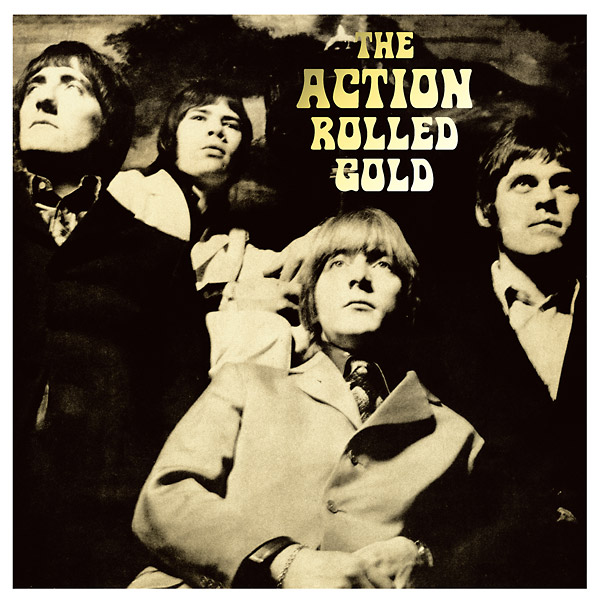 The Action were one of those "why weren't they huge?" British bands of the mid-1960's. On the surface, the London quartet had it all: good Motown-inspired songs, a snappy Mod image, and perhaps most importantly, the support of Beatles' producer George Martin, who produced their early singles. The Action looked great on paper, but they consistently stunk it up at the cash register, never reaching the charts despite a series of strong singles like "Shadows and Reflections," and "I'll Keep On Holding On." Fast forward to 1967, and The Action were at a career crossroads. Like their peers, they were discovering LSD, and in turn opening themselves to spirituality and a wide array of new sounds, including jazz and West Coast psychedelia. The demos for their next album displayed their new psychedelically inclined mindset, but nobody listened. George Martin left the fold to focus on The Beatles (and really, can you blame him?), gigs were drying up, and singer Reg King was losing interest fast. In fact he left The Action in early-1968 to search for success via a solo career, and the band soon morphed into Mighty Baby. The album they demoed – Rolled Gold – was never made.
So, what ever happened to those demos? They basically rotted away until 1995 when they were released as Brain on the Dig The Fuzz label, who then remastered and re-released them again in 1998 under their originally intended title – Rolled Gold. Since then Rolled Gold has become something of a legend among '60s fans. Many have said that, had it been produced and released in 1968 we'd be talking about it as a genre classic alongside Odessy and Oracle, Ogdens Gone Nut Flake, and the like. Hearing the album now you'd have to agree with that verdict. Yes, these are demos, but they're well recorded ones, so the sound isn't too far off from a finished product. Yes, the band are too serious in their notions of self-exploration and the lyrics frequently dip into hippie drivel, but so what? They're on fire here, striking a delicate balance between gentle harmony-laden psych and the harder stuff dominated by fuzz guitars and pounding drums. Opener "Come Around" would have fit perfectly with the wistful vibe of The Kinks' Village Green Preservation Society, "Look At The View" gives The Move a run for their money, and "Love Is All" shows how the band absorbed influences from jazz and The Byrds. The whole album is a pleasure, but "Brain" and "In My Dream" make the strongest impression. Had The Action released this album as intended in 1968 you'd hope they would have been smart enough to release these songs as singles.
Spanish label Guerssen's 50th anniversary reissue sounds really good, sports great liner notes by Jason Barnard, and has a gold foil embossed cover for maximum shininess.